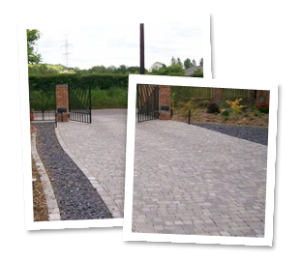 When you are looking for the right material for your driveway, there are a variety of materials that you can choose from. Not only are there different materials in which you can choose from, there are also different styles, colors, and patterns that you could also choose from as well depending on your preference.  Since driveways tend to last for a very long time, it would only make sense that you go for a durable material and one that also looks good as well. We've listed below the most popular types of driveway materials with a little information about the benefits associated with the material. JD Home Improvements – Driveways are experts in all tyes of driveway surfacing so if you have any questions about surfaces please feel free to contact our team.
Block paving driveways
This is one of the most commonly used material for driveways, paths, and patios in the UK. The finished result will for sure be able to provide you with a durable, long-lasting and pleasing driveway that will make your home look beautiful. The prices of block paving driveways tend to vary mainly depending on the style and the manufacturer of blockwork that you decide to use. There are many premium and standard varieties available. This type of material requires one to do a little bit of maintenance but not too much, a good weeding between the cracks every couple of months and a jet wash or good scrub after winter will have the drive looking like new, block paved driveways are highly durable and dont fade in the sun so a new driveway installed with block paving will prove a great improvement to your home for many years to come.
Pattern Imprinted concrete driveways
On a traditional setting, this type of driveway has been very common especially with homeowners throughout the UK. However, as the years have gone by, there has been a sudden shift when it comes to the use of concrete driveways that are plain in design. Many consumers opt to make use of pattern imprinted concrete driveways these days which although are composed fo the same material have a very different finished look. Deciding on a pattern imprinted concrete driveway will allow you to make use of a variety of colors and also pick the patterns that you find appealing with design options and colour schemes almost limitless.
Resin driveways
When it comes to resin driveways, there are two types. You may decide to go for resin bonded, or you may opt to go for a resin bound driveway. Even though the names are similar, you should know that the end results for both are different. Resin bound driveways are normally permeable to water which is very important when it comes to drainage. On the other hand, resin bound driveways are not water permeable, and you'll require an alternative drainage system with this type. If you currently have a driveway laid in tarmac substantial cost savings can be made on a new installation if you opt for resin since the resin material can be laid directly over the top of tarmac saving time and money on excavation works. Design options and colours again are vast with resin drives and as a material it is highly durable and hard wearing.
Tarmac driveways
This type of material is one of the most commonly used in the UK and for good reason, a mainstay on roads, highways and public paths tarmac remains a popular choice for homeowners seeking to modernise their driveway. Whilst colours are limited a new driveway laid in tarmac will last many years, will not be prone to sinkage and is resistant to the sun so will not fade over time.
Summary
These materials used to surface driveways in the UK will all offer a hard wearing and durable material for your drive which will last for many years to come. If you would like more information or a price comparison between the different types of surface for your particual driveway installation please contact us today or read our newx blog post for a rough estimate on driveway installation prices..