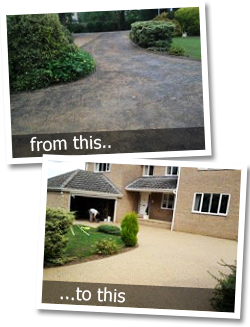 There are a number of different reasons as to why it is a good idea for you to choose a resin driveway for your new driveway installation in Bristol. If you are thinking of renovating your driveway and you are looking for different paving options that you could make use of, this type of pave option could also be worth looking at.
Resin Drives have a smooth finish with no signs of loose stones
Resin drives give homeowners a seamlessly smooth finish which is ideal for any application and highly durable with no loose stones.
They give a permeable surface
Resin driveways have been found to be completely permeable to water and air. One of the main reasons that make this possible is the fact that experienced companies tend to lay them over a permeable binder base coat system. This coating system, in turn, creates an urban drainage system which is sustainable. What this means is that one can be able to create a hard landscape without necessarily having to have planning permission for you to do so.
Resin Driveways Are Extremely Durable & Hard Wearing
Resin driveways are extremely durable and hard wearing with an average lifespan of over 20 years when laid professionally by an experienced resin contractor. The are not prone to cracking, require very little maintenance and are completely resistant to sun and cold weather conditions.
You can be able to choose from the wide color range
Resin driveways come in an unlimited color range that you can be able to choose from. They are very effective especially if you are trying to come up with an innovative design for your new driveway  With the huge variety of colors and options for design you can really create something unique and bespoke when you opt for a resin driveway installation..
Resin Driveways are Extremely Low Maintenance
This type of paving method tends to minimize the growth of ice, puddles, weeds, and mold. The only thing that you need to do is to make sure that you get hose or wash down and then sweep the driveway with a very stiff brush now and then.
They are flexible, and they also come in different design choices
You can choose from a variety of multiple to single colors that create different curves, borders, numbers, patterns, and shapes. Design options are almost endless with resin so if your looking to create something unique which really stands out from other driveways resin really is a great option.
Resin is a great option for surfacing driveways, if a range of patterns, colour and intricate design is what your looking for then resin is a standout performer but other options with similar qualities are also available. Check out our latest blog post covering the features and main benefits associated with pattern imprinted concrete driveways.